We played a show over the weekend with our newest friends, BAD BLOOD REVIVAL and STUPID PARTY.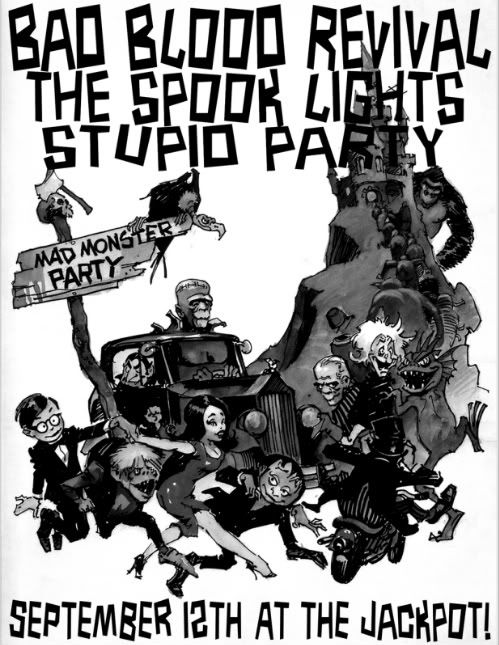 BAD BLOOD REVIVAL
play fashionably savage dirge rock distilled from equal parts Black Sabbath and Killdozer. The kind of stuff that soundtracked my juvenile delinquency, as it were. I'm more than happy to see it coming back into style.
STUPID PARTY
, on the other hand, are more of a low-fi, snarling fuzz outfit, dirty punks with the occasional surprising pop edge. Think early Dinosaur Jr, but drunker and with less attitude. A thirty minute blast of sound that warmed my spirit from head to toe.
All said, it was some of the most fun I've had in a while. I got drunk on whiskey and Night Train, then whacked myself in the face with a microphone before our band had even finished setting up. Curvacia was both lovely and lethal (as always), Jet Boy showed the audience that HAIRDRESSERS DO IT BETTER, and Zeppelina and The Meld once again proved to be a rock-solid rhythm unit, which proved to be a big help when I fell over backwards in a booze-induced stupor. Thanks for backing me up, gang!
An extra special THUMBS DOWN goes out to the crusty kids who tried to lure our door guy into the alleyway for a group beatdown. Tsk tsk tsk, kids... Don't they teach manners in school anymore?
Next weekend, we're onstage with
LABRETTA SUEDE AND THE MOTEL 6
at Kansas City's very own RECORD BAR. And if you can't hold out that long before seeing us again, I would advise grabbing a
ROLLER DERBY WORKOUT DVD
and grooving to "Curvacia's Theme" while you trim off this summer's beer gut. See you at the rink!